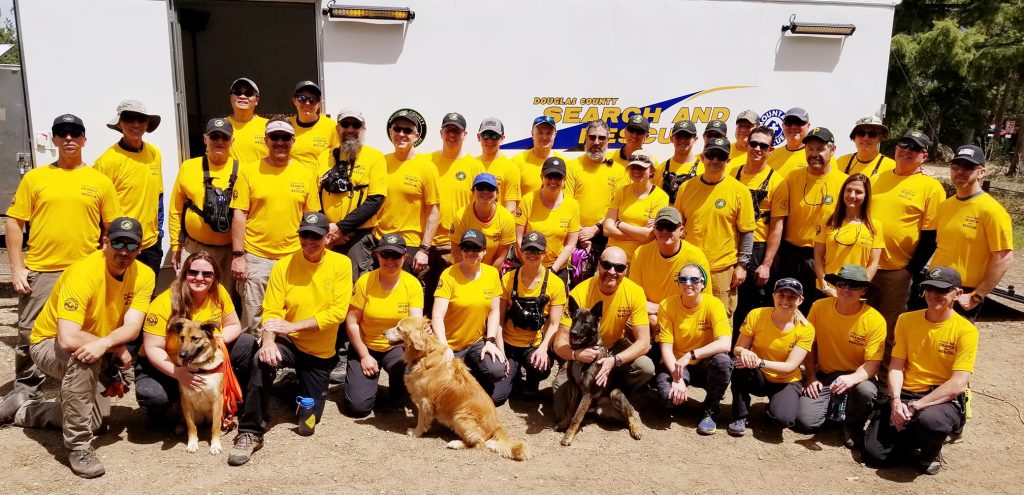 You can make a difference to your fellow citizens.
Whether you're 18 or 81, Douglas County Search and Rescue invites anyone over 18 years old with an interest in the outdoors and helping others to apply for membership. Previous search and rescue or emergency services experience is not required.
Passion to serve, desire to learn, wanting to be part of a team, and physical fitness are the elements we look for. New members have brought a wide variety of rescue, medical, and leadership skills to the team.
Training class typically starts in September and runs through May. However, 2021/2022 is a unique year and we will have a shifted schedule that is still being determined. If you've already completed a pre-application, you'll be invited to our information meeting once it is scheduled. If you have not completed one, please send an email to info@dcsarco.org requesting the form or fill-out the form at the bottom of this page. Candidates join fielded members on all regularly scheduled training, plus have an additional orientation training each month. Most new members become fielded by the Memorial Day Holiday.
In years past, if you wanted to learn more about the team you'd be able to join us during our regular Wednesday night classroom training, which used to be open to the public. Unfortunately, due to the rise of the Delta variant, our Wednesday face-to-face classroom meetings are presently limited to DCSAR members only, as part of our focus on keeping the community and our team as healthy as possible.
There are minimum attendance requirements for members for both training and missions. Failure to meet minimum attendance may result in loss of field status and possible dismissal from the team. DCSAR provides emergency services for the citizens of Douglas County, so members are expected to respond to callouts when available.
Our training topics include map, compass, and GPS use; use of rescue equipment and low angle rescue; patient evaluation, packaging and handling, wilderness medical considerations; search theory, strategy and tactics; and winter operations. All team members must be certified at some level of first aid beyond basic first aid. First aid and medical certification classes are held independently of other team training.
On an ongoing basis, all team members in DCSAR train year-round four times a month: two Wednesday evenings, one Saturday, and one Sunday each month.
This is a large time commitment and something to consider before applying for membership. DCSAR members donate over 10,000 combined hours of service each year with missions, training, and community outreach activities combined.
All members must provide their own clothing and personal equipment.
Prospective members must live within or close to Douglas County to enable rapid, safe response to search and rescue missions. The Douglas County Sheriff performs background and DMV checks on all applicants and reserves the right to deny membership to anyone not passing these checks.
There is a non-refundable (unless application denied) fee which pays for books and insurance for each new member. The team does not charge monthly or annual dues, however, each member is required to pay annual network fees for their team pager.
If you would like more information about applying for membership, email info@dcsarco.org or fill out the form below: